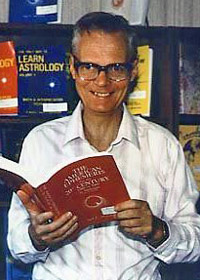 Neil Michelsen
11 May 1931, 5:34 AM CST
Chicago, IL, USA
Placidus Houses, True Node
Geocentric, Tropical
(Source Notes)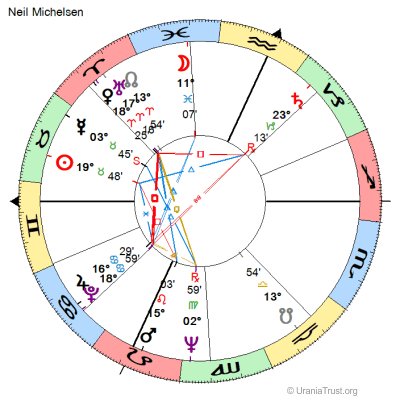 Neil Michelsen was an American computer programmer, astrologer and publisher. After taking a Maths degree, Neil worked for IBM for seventeen years. His interest in Astrology was sparked by attending a workshop on astrology given by Zip Dobyns in 1970, and in 1972 Neil founded his own company Astro Computing Services (ACS). For many years before his death in 1990 he was also Research Director for NCGR.
Through his company, Neil pioneered the calculation and printing of horoscopes at reasonable prices. Later this led to the calculation of ephemerides that were compiled into essential reference works for each century, much relied on by astrologers over the whole world.
Later publications included a reference book of the birth data of famous Americans, drawing on the collection of Michel and Francoise Gauquelin.
He was never a practising astrologer but his application of computing power to generate data for astrologers is his lasting legacy. Setting extremely high standards of accuracy, Neil provided the tools that helped modern astrology develop.
Since Neil's death in 1990, Rique Pottenger, the son of Zip Pottenger Dobyns, has continued the work of Astro Computing Services and updates their reference works.
Major Published Works
American Ephemeris for the 20th Century
American Ephemeris for the 21st Century
American Midpoint Ephemeris 2006-2020
The Gauquelin Book of American Charts
The American Atlas