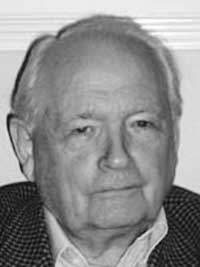 Dennis Elwell
16 February 1930, 11:44pm
Stourbridge, Worcsester, UK
Placidus Houses, True Node
Geocentric, Tropical
(Source Notes)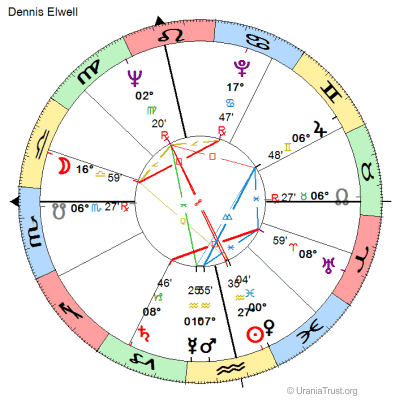 Dennis Elwell was a towering figure in terms of late twentieth century astrology. His legacy includes his book Cosmic Loom first published in 1987 (revised, updated and republished four times including by the Urania Trust in 1999). It is a seminal work and has much to say about how astrology works, how it can be used and how it can't be used. It's both broad and deep in its scope; encompassing tidbits of knowledge from a wide variety of sources, some from the realms of science and philosophy. He explores various events and happenings and not only points to the given astrological significators for them but discusses the meaning behind them. The reader is shown how seemingly unrelated events at a given time are all part of the same "holon". Throughout the book and in his work generally, Dennis constantly illustrates a central tenet of astrology; namely the interconnectedness of all things. Cosmic Loom is a wonderful piece of work on so many levels and makes for nothing less than an exciting read. Not what one expects from non-fiction perhaps but one feels as if the meaning of life is being explained. It is also extremely well-written. Not surprisingly perhaps as Dennis spent much of his working life as a journalist.
A self-taught astrologer, Dennis Elwell discovered astrology at the age of sixteen and at his local library. Over the years he studied the work of many metaphysicians, including Rudolf Steiner, Gurdjieff and Ouspensky.
During his forty-five years in astrology, Dennis contributed a range of articles to Astrological Journals around the world including the UK's Astrological Association's Journal and the Lodge Quarterly. He also lectured at many international astrological conferences and was known as a dry, witty and thought-provoking speaker. He delivered the prestigious Charles Carter Memorial lecture in 1974 and 1982. The Astrological Association awarded him the Charles Harvey award in 2007. The recipient of this annual award for exceptional service to astrology is proposed and voted for by the leading organisations and schools in the UK.
Part of Dennis's claim to fame is that he wasn't frightened to challenge members of the scientific fraternity. Whilst he was to write that it is important that "astrologers seeking recognition for their science understand that some minds cannot be changed. Ultimately people will believe what they want to believe..."*1 on some level it seems that Dennis really hoped that more members of the public could and should discover "real" astrology and he took pains to make this happen. Cosmic Loom was part of this endeavour. At the very least he wanted serious astrology to attract serious discussion and not routinely to just be dismissed. He writes: "As for the present role of astrologers, they are unlikely to succeed in a frontal assault on the citadels of academe. They must learn the art of guerrilla warfare, choosing their own time and place for sorties"*1
Dennis was a very skilled astrologer and can be credited with making some stunning predictions. One of these might be viewed as a "sortie" but was made at the behest of his publishers Unwin Hyman who published the first edition of Cosmic Loom. He noticed that the horoscope for the eclipse in March 1987 had Sun, Moon, Jupiter and Node conjuncting each other and tightly square Neptune - not dissimilar to the eclipse chart that heralded the sinking of the Titanic. He wrote to two shipping companies, Cunard and P&O Ferries advising them of potential problems. P&O wrote back assuring him that they could "deal with the unexpected from whatever quarter". They had several shipping disasters within that period, the serious one occurring on the 6th March when their ferry, the Herald of Free Enterprise, capsized just outside Zeebruge with the loss of 193 lives.
His prediction and the response it attracted was picked up by both newspapers and TV. In the autumn of that year he also predicted the Kings Cross fire and other happenings of that year.
Dennis Elwell himself had a Venus-Jupiter-Neptune 'T' Square and perhaps that gives a clue to one of his other uses for astrology - testing his astrological skills by trying to work out the winners of sporting fixtures, notably horse races. An interest I shared with him, albeit to a lesser extent. He was probably as skilled at this as it is possible to be. At one point he told me that the public would never take astrology seriously until it could be shown that one could make money from it.
Be that as it may, for all his predictions, Dennis Elwell must surely be remembered as one who married practicality with a deep, spiritual, philosophy. Above all, he was a skilled astrologer.
This is a temporary article to acknowledge Dennis Elwell's passing and contribution to astrology. It will be replaced in the future by something more definitive.
Data Notes
Born: 16 February 1930 "late at night" with a clock striking (rectified by Dennis to 11.44pm) in Stourbridge, Worcs.
Died: 13 November 2014 around 8.15pm Stourbridge.
References
Cosmic Loom – the new science of Astrology Dennis Elwell 1999 edition Urania Trust
Astrology in the Year Zero – Gary Phillipson