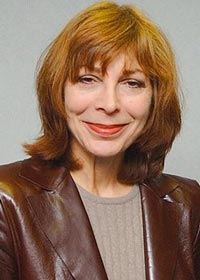 Liz Greene
4 September 1946, 1:01 PM EDT
Englewood, NJ, USA
Placidus Houses, True Node
Geocentric, Tropical
(Source Notes)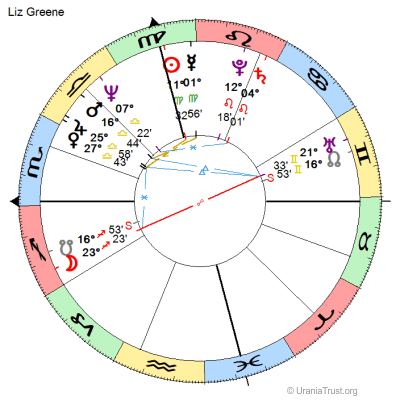 Liz Greene is a charismatic lecturer and prolific writer, at the forefront of the development of Psychological Astrology. A qualified Jungian analyst, Liz holds degrees in psychology and in history and in 2010 gained a doctorate for her thesis 'the Kabbalah in British Occultism 1860-1940'. She is a lifetime patron of the Faculty of Astrological Studies and holds the diploma in counselling from the London Centre for Transpersonal Psychology founded by Ian Gordon-Brown and Barbara Somers.
In 1976 the publication of Liz's second book Saturn: A New Look at an Old Devil immediately made Liz into a celebrity star in the astrological community. In the book she applied Jungian psychology and ideas to revise the traditional image of Saturn as the ruler of misfortune. The success of this work encouraged a steady flow of publications, each of which in turn was eagerly anticipated by her readers. Many later publications were collections of lectures, making them available to the public.
In 1983 Liz founded the London Centre for Psychological Astrology together with Howard Sasportas. When Howard died in 1992 Charles Harvey stepped in as Co-Director of the Centre. The success of the Centre soon led to the creation of the CPA Press which specialises in the publication of astrological works and the Press handles all of Liz's later books.
Between 1985 and 1987 Liz worked extensively with a Swiss programmer Alois Treindl to create together software that would provide a client with a reading of their chart as near as possible to a personal consultation with Liz. Their Psychological Horoscope Analysis was launched to great commercial success as Astro*Intelligence. Since then Liz has written further modules which are now available – the Child Horoscope, Relationship Horoscope, Yearly Horoscope Analysis, Long Term Analysis, Career & Vocation.
Major Published Works
Astrology for Lovers
Saturn: A New Look at an Old Devil
The Dreamer of the Vine
The Outer Planets and their Cycles: The Astrology of the Collective
The Astrology of Fate
The Jupiter/Saturn Conference Lectures (with Stephen Arroyo)
The Development of Personality (with Howard Sasportas)
Dynamics of the Unconscious (with Howard Sasportas)
The Luminaries (with Howard Sasportas)
The Inner Planets (with Howard Sasportas)
The Twelve Houses: Exploring the Houses of the Horoscope (with Howard Sasportas)
The Astrological Neptune and the Quest for Redemption
The Dark of the Soul: Psychopathology in the Horoscope
Jung's Studies in Astrology: Prophecy, Magic and the Qualities of Time
The Astrological World of Jung's 'Liber Novus': Daimons, Gods and the Planetary Journey