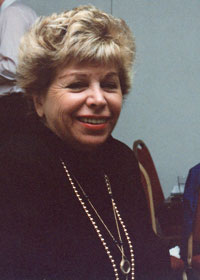 Marion March
10 February 1923, 3:36 AM
Nurnberg, Germany
Placidus Houses, True Node
Geocentric, Tropical
(Source Notes)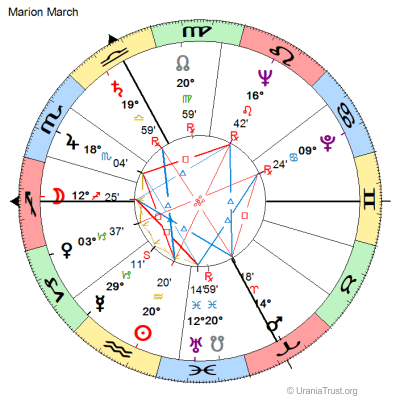 M arion March was a German born, American astrologer who rose to become internationally known as a lecturer and teacher. She was twice awarded the Regulus Award.
With Neil Michelsen and others, she helped to create and establish the United Astrology Congress and acted as coordinator for UAC 1986, 1989 and 1992. With Joan McEvers she co-wrote the best selling 6 volume series The Only Way to Learn Astrology which had sold over 50,000 copies by 1984. She also co-founded the Aquarius Workshops in 1973 and held the position of editor of Aspects journal from 1973 to 1979.
Born into a prosperous German family, her childhood was overshadowed by the rise to power of the Nazi party which led the family to move to Switzerland and then in 1939 to flee to Chile and on into the USA. The family settled in Hollywood where Marion tried acting in small film roles.
After the war, in 1947 Marion returned to Switzerland and married there in 1948. She returned with her husband, Nico March, to the USA and settled again in Hollywood. Marion began to study astrology in 1966 and became a professional astrologer by 1970. As her children grew up and moved away she was able to commit more of her time to astrology, giving classes at her home every two weeks. She corresponded regularly with many colleagues and friends within the astrological community leading to her special role in the founding of the UAC conferences.
Marion died in 2001.
Published Works
The Only Way to Learn Astrology (with Joan McEvers)
The Only Way to Learn About Relationships (with Joan McEvers)
Astrology: Old Theme, New Thoughts (with Joan McEvers)
The Only Way to Learn about Tomorrow (with Joan McEvers)
The Only Way to Learn About Horary and Electional Astrology (with Joan McEvers)