Her dreams are being carried out by many women rising in the world today, astrologer Lynn Bell says.
More than 100 women have been newly elected to Congress, marking a new generation of women in politics. The group includes two Native Americans, two Muslims and a former refugee.
Also, for the first time, close to 100 members of the House of Representatives will be women. And three women continue to serve as Associate Justices on the U.S. Supreme Court, including the indefatigable Ruth Bader Ginsberg.
In an article on her website, astrologer Lynn Bell, a U.S. ex-pat living in Paris, notes that a recent documentary on Ginsberg's life opens with the observation that, in these days, "a powerful women is all too often called a witch.
"Although we have no birth time for Piscean Ruth Bader Ginsburg (born in Brooklyn March 15, 1933) we do know the Moon is in Scorpio, the sign of its fall, on the day of her birth. When a planet is in the sign of its fall it acts counter to the ideal expectation.
"The powerful, uncomfortable feminine described by Moon in Scorpio is constellated in this diminutive 84-year old. No matter how frail she looks, she is not to be messed with. The Moon in the astrological sign astrologers say is ruled by planet Mars gives ferocity and determination. It takes no prisoners," Bell writes.
Associate Justice Ginsburg was elevated to the Supreme Court of the United States in 1993 by President Bill Clinton. Over the years she has worked slowly, patiently, to establish a body of law for women's rights. Her attempts to unravel a profound inequality had the nature of piecework; each argument beautifully made, small enough to slip into law and undermine the endemic distortions."
Bell says Bader Ginsburg was quiet and stunningly beautiful as a young woman. But despite being at the top of her law school class upon graduation she couldn't find a job. Firms said: "You don't get it. We don't hire women."
Ginsburg was able to find work teaching law at Rutgers University. In 1969 students asked her to teach on gender and law, and from then on she has worked to remove gender bias from the law, Bell says.
"Her Scorpio Moon probably has something to do with the nickname she's been given: The Notorious RGB.
"Ruth Bader Ginsburg played an important role in helping women assume positions of power in the United States. She's become a cultural icon, spoofed on Saturday Night Live and exclaimed over rapturously by young law students. Were she to disappear she would leave an opening for the conservative forces on the court to dominate.
"RBG is determined to keep going, her will honed in the workouts she does (push-ups!) with her personal trainer. She may have the Moon in its fall, which points to struggle rather than ease. But it also means she's built for a battle."
Bell says Ginsburg doesn't appear to be particularly gifted for ordinary life. Her children complained about her cooking, her constant working. She was, however, blessed in her marriage. Her husband of 56 years, a successful attorney in his own right, clearly adored her.
As Ginsburg once put it, "I have had the great good fortune to share life with a partner truly extraordinary for his generation, a man who believed at age 18 when we met, and who believes today, that a woman's work, whether at home or on the job, is as important as a man's."
Bell's work as an astrologer spans multiple cultures as a speaker, teacher, author and consultant. She is author of Planetary Threads, which deals with planetary patterns in families; and Cycles of Light, a book about solar returns. She is co-author of the Mars Quartet and has written numerous journal and magazine articles.
"Ruth Bader Ginsburg bases her powerful arguments on deep reflection and scholarship. Her hard work has helped create today's results. And her dreams are being carried out by many women rising in the world," Bell says.
Additional astrological insights and Ginsberg's birth chart can be found at www.lynnbellastrology.com/articles.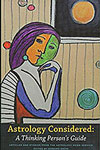 Author: Edward Snow
Edward Snow is the Managing Editor of the Astrology News Service (ANS). He is a former news reporter and publicist who has managed PR programs for national and regional clients. Snow is the editor of Astrology Considered: A Thinking Person's Guide (left) which lists articles and stories from the Astrology News Service.